Located in China's capital of small commodities, Yiwu fizz Import & Export Co., Ltd specializes in Solar Cell Module, solar lighting, solar rechargeable treasure series, solar audio & household appliances series and solar off-grid system to meet all your needs.
Fizz comes from a sourcing agent,and offers sourcing services in different area.In 2014, established in Yiwu, Zhejiang,China,FIZZ GLOBAL has grown to a global moving company with PHOTOVOLTAICS manufacturing and branches world wide, helping to move people, businesses and products to the other side of opportunity.FIZZ GLOBAL works as part of your team and an extension of your company so you can worry less about your supply chain and more on growing your business. Our highly-efficient PHOTOVOLTAICS distribution centers deliver world-class solutions and are flexible enough to grow as you grow.
This year, yiwufizz is targeting vast Africa. As the continent with the fastest population growth and the highest growth rate, the African market is full of opportunities, and photovoltaic new energy is one of the blue sea.
While the sun is shining on Africa, the huge power shortfall, expensive and time-consuming large-scale power projects, may not be the only way to achieve short-term economic growth and small development, government support and accelerated development of distributed solar solutions, Africa has an immeasurable solar power market prospect.
Africa has been promoted to be the world's largest potential market for solar power. In recent years, Chinese pv companies have turned their attention to the potential of African pv market while deepening their focus on the downstream power station market in China. Tremendous progress in the use of solar energy power generation in China, and many African countries in solar power generation gap and potential, and make China (the world's largest solar photovoltaic company is located) have a direct demand of African PV export capacity (including product and technology), China has become Africa's first big importer for successive years.
To meet demand, yiwufizz will be unveiled with its latest products at the 2018 morocco-china trade week!
Morocco boasts abundant solar energy resources, generating 2,600 kw/m2 per year. The Moroccan government has encouraged new energy development, reducing indirect taxes on solar thermal power projects from 20 to 14 per cent. Tariffs on solar panels have fallen to 2.5 percent, and many countries have adopted policies such as tariff-free tariffs to boost the new energy sector.
But Morocco is currently woefully short of energy: around 95% of its energy needs are imported, and domestic energy demand has grown by 7% a year for the past decade. Oil now accounts for about 62% of its total energy consumption. Most of the solar energy collection is distributed in small villages without large-scale production. Morocco's new energy sector still has a lot of room to grow.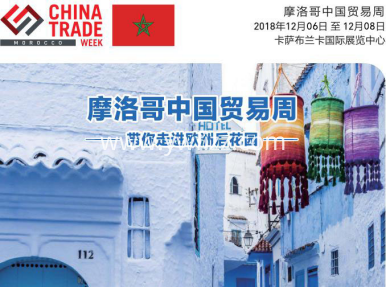 Looking forward to the excellent performance of
yiwufizz
in China trade week, Morocco to see you in December!